Parsippany Law Firm
Our New Jersey law firm practices in the following areas:
Automobile Dealer Franchise Law
The complex inter-relationship of state and federal statutes affecting an automobile dealer franchise can be daunting. Noel E. Schablik, P.A. has mastered the inter-relationship of these statutes and corresponding case law in representing automobile dealer franchises over the last 15 years. (more information)
Business Law

We provide consultation, advice and litigation services to sole proprietors, partnerships, corporations, LLCs and the owners of these entities. We can help if you have a question about a business relationship, contract or business dispute.
We also can advise and help if you have questions concerning the conduct of your partners, co-shareholders or co-members. We invite you to consult if you feel you are being treated unfairly by the other owners of your business or if management has reached an impasse and cannot make significant decisions. (more information)
Employment Law
We provide consultation and litigation services to employers and employees who are threatened with or believe they should institute employment-based litigation. Our services include advice and litigation in connection with employment contracts, covenants not to compete, termination of employment, discrimination or harassment within the work place, wage and hour laws and all other aspects of the employer/employee relationship. (more information)
Legal Malpractice

We provide legal malpractice consultation and litigation services to plaintiffs in the state and federal courts. (more information)
Matrimonial Law
We provide matrimonial consultation and litigation services to our clients on the issues of divorce, separation, separate maintenance, alimony, child custody, child support, equitable distribution and attorney's fees. (more information)
Medical Malpractice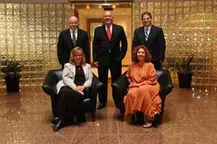 We provide medical malpractice consultation and litigation services to plaintiffs in the state and federal courts. (more information)
Personal Injury Litigation
We provide personal injury litigation services to plaintiffs who have suffered substantial injuries as the result of an automobile accident, a slip and fall or defective product. (more information)
Probate Litigation

We provide probate consultation and litigation services to administrators, executors and trustees, and the beneficiaries of estates and trusts. Please contact us if you have any questions or concerns as an administrator, executor or trustee, or beneficiary of an estate or trust. (more information)